PAUL BROWN BSc PGCE QTS MSc is currently studying towards a PhD at the University of Leeds, Faculty of Engineering, School of Computing. The field of research includes ontologies or knowledge graphs applied to safety and reliability. This includes sub-topics such as control systems, fault-analysis, semantic web, logic, visualisation, exploration, and artificial intelligence.
PhD Publications
Record of Education
MSc Advanced Computer Science, University of Leeds
PGCE(QTS) Secondary Computer Science and ICT, University of Cumbria
BSc(Hons) Business Systems Management, Kingston University
MSc Advanced Computer Science
THIS TAUGHT course concluded with a three month long project, entitled "LUCIE The Robot Waitress". During this time, Paul repurposed a STRANDS robot to work as a Waitress. The purpose was to explore how well the robot could accomplish the tasks associated with waiting in a variety of environment.
Robots stealing jobs is a growing concern. However, this investigation found difficulties with both navigation and interaction with humans that would require a significant amount of work to overcome. The major obstacle to overcome is the environment within which the robot works.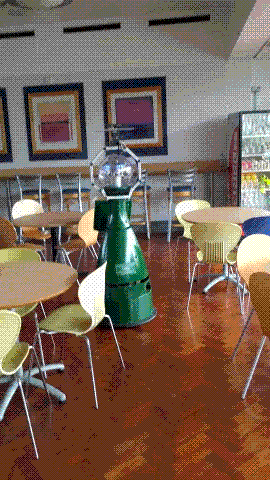 As humans, we design our working environments to suit our needs, whereas the needs of the robot are quite different. LUCIE would crash into furniture with narrow legs and steps that were around blind corners. LUCIE also struggled to find the best place to locate itself whilst interacting with humans. These typical difficulties for LUCIE could be overcome by adapting the working environment.
PGCE(QTS) Secondary Computer Science and ICT
PRIOR TO undertaking his MSc, Paul was a secondary school Computer Science teacher, completing his NQT year at Kings Leadership Academy. Although Paul no-longer works as a secondary school teacher, he works informally in education by helping organisations such as TuringLab, who use creative computing to give children valuable skills for their futures. They run classes and provide software for thousands of children across the UK.
BSc Business Systems Management
THIS DEGREE course combined business and computing subjects, Paul also took the option to complete a large group project for an external client as a module. Paul acted as project leader, using documentation associated with PRINCE2 for project specification and processes associated with Scrum to manage the work to be done.
During this project, Paul consulted with, the CEO of Neo-Innovations UK Ltd and creator of the Neo-Slip, an award winning medical device. The remit was to produce a suitable e-commerce website, however Paul also provided a complete digital strategy for the company including CRM and ongoing SEO. The website Paul created supported the company for four years before being replaced, it was starting to look its age and the needs of the company had changed.
*[PhD]: Doctor of Philosophy *[MSc]: Master of Science *[BSc]: Bachelor of Science *[QTS]: Qualified Teacher Status *[PGCE]: Postgraduate Certificate in Education *[ICT]: Information and Communication Technology *[LUCIE]: Leeds University CIE *[NQT]: Newly Qualified Teacher *[CRM]: Customer Relations Management *[SEO]: Search Engine Optimisation